Dental365 CEO Interviewed on the Group Dentistry Now Podcast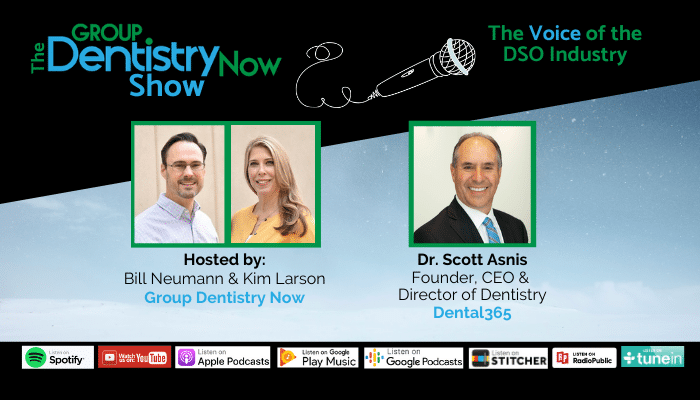 New Hyde Park, NY - Scott Asnis, DDS, Founder & CEO of Dental365 was recently interviewed by Bill Neumann and Kim Larson on The Group Dentistry Now Show: The Voice of the DSO Industry podcast where they discussed Dental365's rapid growth, success and how he has been able to scale the dental practice so quickly since founding the company just a short 6 years ago.
During the podcast, Dr. Asnis discusses his vision for the company, the keys to the DSO's success, how he navigated the COVID-19 crisis successfully, and his predictions for not only the company, but the industry overall in the next 5 years.
Listen to the full podcast here: https://www.groupdentistrynow.com/dso-group-blog/the-group-dentistry-now-show-the-voice-of-the-dso-industry-episode-47/
Dental365 is a full-service family dental practice with locations throughout New York, Connecticut and New Jersey. Their goal is to safely service communities with the latest technology in oral healthcare and wellness. Dental365 accepts walk-ins with little or no waiting time for adults and children and they offer everything from emergency extractions to routine exams, including cosmetic restorations, implants, and Invisalign®, all in state-of-the-art, beautiful environments where patient comfort and safety are a top priority. In addition, Dental365 is committed to providing dentists with the ongoing education and tools needed to provide the best patient care through Dental365 University, a unique concept built exclusively for Dental365 doctors. For more information about Dental365 call 844-365-DENTAL or visit GoDental365.com.