Dental365 Donates Dental Kits to Episcopal Health Services Back to School Backpack Giveaway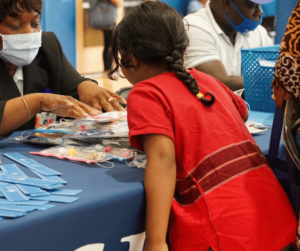 Dental365 Donates Dental Kits to Episcopal Health Services Back to School Backpack Giveaway
Far Rockaway, NY - This past month, Dental365 partnered with Episcopal Health Services thru their ICARE Foundation for their annual Back to School Backpack Giveaway. 
Dental365 donated 500 hundred dental kits to be given out at the event. The event was held on August 19th at the Rockaway YMCA at Arverne by the Sea. Over 500 backpacks and other supplies were given out to the children of the Rockaways. Families were also able to schedule pediatric wellness appointments for their children and the mobile health unit was on site for health screenings. 
"We are proud to be a part of such a successful community event." says Dr. Scott Asnis, Founder and CEO of Dental365. "We wanted to be able to give kids a head start on staying healthy this school year. Everything we do as an organization, has our community in mind."
About Dental365
Dental365 is a full-service dental group offering general dentistry and specialty services with locations throughout New York, Connecticut, New Jersey, Massachusetts and Rhode Island. Their goal is to service communities with the latest technology in oral healthcare and wellness. Dental365 provides convenient, evidence-based dentistry for their patients. Services provided cover the full spectrum of dental health, from routine exams and cleanings to TrueTeeth full arch restorations, all delivered in state-of-the-art, beautiful environments where patient comfort and safety are a top priority. In addition, Dental365 is committed to providing dentists with the ongoing education and tools needed to provide the best patient care through Dental365 University, a unique concept built exclusively for Dental365 doctors. For more information about Dental365 visit GoDental365.com.
About St. John's ICARE Foundation
St. John's ICARE Foundation offers many types of giving programs and is wholly owned by Episcopal Health Services, Inc. The mission of the foundation is to foster a culture of philanthropy to secure, manage and distribute gifts in support of the mission and vision of St. John's Episcopal Hospital. For more information visit ehs.org.