Dental365 Donates Dental Supplies to Ukraine Relief Effort
New Hyde Park, NY - County Executive, Steve Bellone recently announced his partnership with local collection centers to help the people of Ukraine. In response to the devastating situation, Dental365 has donated dental supplies to refugees. 
Oral Hygiene items such as toothbrushes and toothpaste were just a couple of the many items requested for donation. Other items eligible for donation include medical supplies such as first aid kits, baby items, and articles of clothing. Peter LoPiccolo, a patient of Dr. Frederick Seltzer organized collections for donations to drop off at the Holy Family Ukrainian Catholic Church in Lindenhurst, NY, just one of many locations actively collecting items to be shipped to Ukraine.
Dental365 was eager to help in any way possible and gathered a variety of dental hygiene items to send abroad. Those items were picked up and are currently in-transit to those in need.
"We are thankful to have the opportunity to support Ukrainian refugees during this critical time of need" says Dr. Scott Asnis, CEO and Founder of Dental365. "We are also extremely lucky to have dedicated team members, and thoughtful patients who are willing to volunteer their time to make it possible."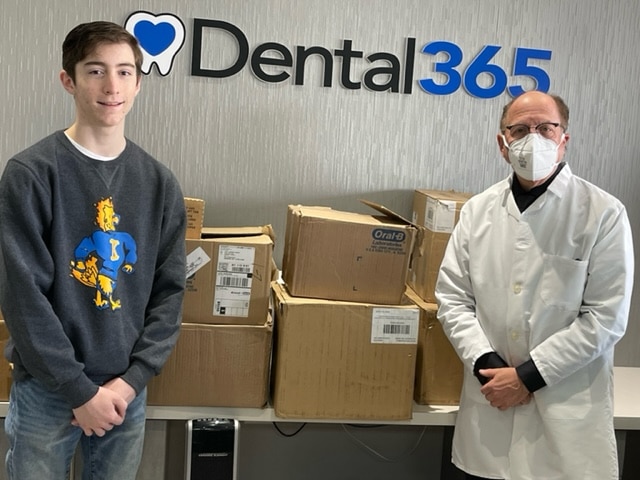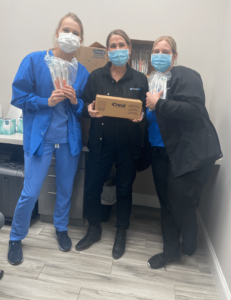 About Dental365
Dental365 is a full-service dental group offering general dentistry and specialty services with locations throughout New York, Connecticut, New Jersey, Massachusetts, and Rhode Island. Their goal is to serve communities with the latest technology in oral healthcare and wellness. Dental365 provides convenient, evidence-based dentistry for their patients. Services provided cover the full spectrum of dental health, from routine exams and cleanings to TrueTeeth full arch restorations, all delivered in state-of-the-art, beautiful environments where patient comfort and safety are a top priority. In addition, Dental365 is committed to providing dentists with the ongoing education and tools needed to provide the best patient care through Dental365 University, a unique concept built exclusively for Dental365 doctors. For more information about Dental365 visit GoDental365.com.