Dental365 Donates Holiday Stockings to Far Rockaway Hospital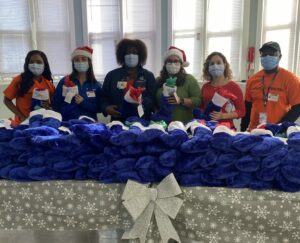 Far Rockaway, NY - As a thank you to healthcare workers who sacrificed their own health and worked so hard on the front lines since the COVID-19 pandemic began, Dental365 has partnered with Backpack International, Inc. to bring holiday cheer and gratitude to St. John's Episcopal Hospital in Far Rockaway.
More than 20 Dental365 employees attended the company's philanthropy event on December 15th where 200 stockings were filled with self care items and snacks ranging from gel eye masks to dental hygiene kits to DOVE® dark chocolate bars. With holiday decorations, food and even a hot chocolate bar, Dental365's stocking stuffer event was a fun and creative way to get employees and their families involved.
"It's amazing having our employees come together to give back to the community. Being in the healthcare industry ourselves, we wanted to show our appreciation and support of those on the frontlines since the COVID-19 pandemic started," says Dr. Scott Asnis, Founder and CEO of Dental365. 
Dental365 employees then gathered together with Backpack International, Inc. employees, who assisted with organization of the event and also provided refreshments and festive decorations at St. John's Episcopal Hospital on December 17, 2021. Together, they handed out stockings and expressed gratitude for their bravery for helping the community during the most uncertain times. St. John's Episcopal Hospital staff members were very appreciative and the event successfully brought warmth to their hearts and smiles to their faces.
The Far Rockaway hospital was one of the hospitals that took care of the highest number of COVID-19 patients at the height of the pandemic. "We hope these self-care items will come in handy and bring smiles to those who deserve it most this holiday season," says Jessica Colón, SVP of Operations.
About Dental365
Dental365 is a full-service dental group offering general dentistry and specialty services with locations throughout New York, Connecticut, New Jersey, Massachusetts and Rhode Island. Their goal is to service communities with the latest technology in oral healthcare and wellness. Dental365 provides convenient, evidence-based dentistry for their patients. Services provided cover the full spectrum of dental health, from routine exams and cleanings to TrueTeeth full arch restorations, all delivered in state-of-the-art, beautiful environments where patient comfort and safety are a top priority. In addition, Dental365 is committed to providing dentists with the ongoing education and tools needed to provide the best patient care through Dental365 University, a unique concept built exclusively for Dental365 doctors. For more information about Dental365 visit GoDental365.com.
About Backpack International, Inc.
Backpack International, Inc. (BPI) is a non-profit organization that extends beyond providing backpacks to children in need around the globe. Now in six countries, BPI tackles tough issues such as food insecurity and period poverty. The organization also facilitates service opportunities for businesses, organizations and volunteer groups in Alabama, New York and South Florida. They also coordinate international faith-based medical missions and educational travel trips. Backpack International is a 501 c (3) non-profit organization founded in 2016 by Oslyn Rodriguez. Oslyn is a New York State Certified Teacher & Administrator, as well as a minister.