Dental365 Opens 5th Location in Manhattan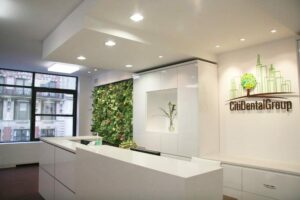 New York, NY – A well-known and established dental office in Midtown Manhattan, CitiDentalGroup, and its staff have joined the Dental365 family. Located at 240 Madison Avenue, between 37th and 38th Streets, Dental365 CitiDentalGroup offers patients all aspects of high-quality dentistry, including prosthodontics, orthodontics, dental implants, and oral surgery, while also offering general, cosmetic, and walk-in emergency dental care. Dental365 CitiDentalGroup is also open early mornings and weekends so that visits to the dentist will easily fit into even the busiest Manhattan lifestyles. Patients are able to visit any other Dental365 locations throughout the New York metropolitan area seamlessly.
This midtown location is led by Dr. Clarence Loflin and Dr. Amir Ahmadi. Drs. Ahmadi and Loflin founded the practice in 2009 and they have seen exponential patient growth each year since. Their practice philosophy is very similar to Dental365's; treat patients like family members would like to be treated when seeking care from a health care provider. They are committed to dentistry and their patients' care. Drs. Loflin and Ahmadi are thrilled to be joining Dental365.
The pristine midtown office provides a comfortable patient experience with state-of-the-art equipment and the latest technology. Each exam room is complete with a smart television that includes Netflix and Pandora along with many other patient amenities. This is the sixteenth Dental365 location to open in the New York metropolitan area and more offices are scheduled to open throughout the new year.
Dr. Scott Asnis, founder and CEO of Dental365, started Dental365 as one of the country's first high-quality, affordable dental groups offering routine and walk-in emergency dental care 7 days a week. In addition to providing general and emergency dental services, Dental365 dentists and specialists are available to provide excellent care to their patients' unique dental needs. Dental365 also works with most PPO insurance plans.
Dr. Asnis comments on the opening of Dental365 CitiDentalGroup in Manhattan: "I am excited to open our fifth office in New York City. CitiDentalGroup has a great reputation and has been serving the neighborhood for many years, and we are excited for the dentists and staff to join our Dental365 family."
Dental365's goal is to serve the communities they are in with the latest technology in oral healthcare and wellness. As an added convenience, their brand new, inviting offices focus on all areas of dentistry, so patients never have to go elsewhere for dental treatment. Dental365 accepts walk-ins with little or no waiting time for adults and children and offers everything from emergency extractions to routine exams, including cosmetic restorations and implants, periodontal procedures and Invisalign all in a state-of-the-art, beautiful environment where patient comfort is a top priority. For more information about Dental365 CitiDentalGroup or to schedule an appointment call 212-685-2890 or visit GoDental365.com.