State-Of-The-Art Pediatric Dentistry & Orthodontics Practice Officially Open in Plainview, NY!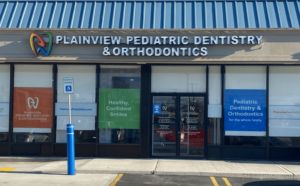 Plainview, NY - Two leading pediatric dentistry and orthodontic practices in Nassau County are excited to announced that they have officially teamed up to open Plainview Pediatric Dentistry & Orthodontics, a brand new, state-of-the-art office located in the Crossroads Plaza in Plainview, NY.
Drs. Charlie and Ari Pillar from Pillar Pediatric Dentistry & Orthodontics in Plainview and Drs. Sharon Essner, Ron Kosinski, and Keri Greene from The Smile Station in Jericho have been preparing for this move for the past 6 months. They are excited to have joined together to open up the brand-new beautiful practice, which provides high-quality pediatric dentistry and orthodontics for adolescents and adults.
"We are excited to be merging with our friends at The Smile Station and relocating to our beautiful new office" says Dr. Charlie Pillar. "With our practice growing so rapidly in the past few years, we are thrilled to now have a larger space just down the street from our current office. The Smile Station doctors and staff have already been seeing their patients out of our office and it's been a pleasure working with them while the new office has been under construction. We can't wait to show all of our patients, both old and new, around the office."
Plainview Pediatric Dentistry & Orthodontics, which is now complete and treating patients, is conveniently located on Old Country Road in the Crossroads Plaza Shopping Center. The office neighbors a number of well-known eateries, shops, and other local businesses. Built from the ground up, the new office has spacious treatment areas to efficiently treat patients while maintaining the premier, individualized care the doctors are known for. The office is complete with the most advanced dental and orthodontic technology as well as comfortable amenities and a large parking lot for convenience.
Plainview Pediatric Dentistry & Orthodontics offers best-in-class pediatric dental care and orthodontics for all ages. The highly trained doctors and staff at the office are focused on exceptional and comfortable care for all patients. From infant and toddler first dental visits to routine care throughout adolescence, Plainview Pediatric Dentistry & Orthodontics offers outstanding pediatric dentistry with modern technology. In addition to pediatric dentistry, the office offers orthodontic care for the entire family, including discreet Invisalign®. The office is large, comfortable and has family-friendly streaming entertainment for each patient while receiving treatment. In addition, Plainview Pediatric Dentistry & Orthodontics follows stringent infection control protocols, to provide a safe environment for patients and staff members throughout their visit. For more information on Plainview Pediatric Dentistry & Orthodontics, please call (516) 931-7171 or visit plainviewpedoortho.com.