Dental365 Expands to Pennsylvania: Acquisition of Group Practice with 6 Locations
New Hyde Park, NY, September 11th, 2023 — Dental365, a leading provider of comprehensive dental care services, is thrilled to announce the acquisition of a Pennsylvania group practice made up of 6 General Dental practices in Eastern Pennsylvania. This acquisition marks Dental365's entry into Pennsylvania, the Keystone State, becoming its 7th state of operation. 
The six office locations acquired include: 
Susquehanna Valley Dental Group in Middleburg, PA

 

Back Mountain Dental in Shavertown, PA

 

NEPA Dental in Wilkes-Barre

 

Polit & Costello Dentistry in Pittston, PA

 

NEPA Dental West in Forty-Fort, PA

 
Coopersburg Dental in Coopersburg, PA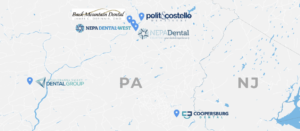 James DeFinnis, DMD, Anthony Polit, DDS, and John Costello, DMD, have played a pivotal role in establishing the practices as pillars of dental care within their respective communities. Their commitment to patient well-being aligns seamlessly with Dental365's values, making this acquisition a natural expansion of Dental365's commitment to providing accessible, high-quality dental care to even more communities.  
Dental365's CEO, Scott Asnis, shared,"The acquisition of these 6 practices represents a significant milestone for Dental365 as we extend our footprint into the vibrant state of Pennsylvania. We are excited to welcome the talented professionals and staff to the Dental365 family." 
This expansion not only reinforces Dental365's dedication to exceptional dental care but also solidifies the company's strategic growth in the northeast. By adding strong and well-respected practices, Dental365 continues to build a reputation on high quality care and positively impacting the lives of patients.   
Dental365 is a full-service dental group offering general dentistry and specialty services with locations throughout New York, Connecticut, New Jersey, Pennsylvania, New Hampshire, Massachusetts and Rhode Island. Their goal is to service communities with the latest technology in oral healthcare and wellness. Dental365 provides convenient, evidence-based dentistry for their patients. Services provided cover the full spectrum of dental health, from routine exams and cleanings to TrueTeeth full arch restorations, all delivered in state-of-the-art, beautiful environments where patient comfort and safety are a top priority. In addition, Dental365 is committed to providing dentists with the ongoing education and tools needed to provide the best patient care through Dental365 University, a unique concept built exclusively for Dental365 doctors. For more information about Dental365 visit GoDental365.com.