Dental365 Opens Brand New, State-Of-The-Art Office in Garden City, NY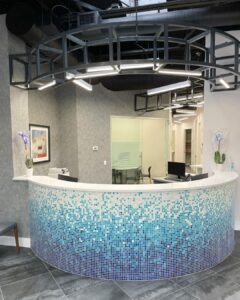 Garden City, NY - Dental365 - Esposito Dental, the premier general and cosmetic dental practice in Garden City, NY has officially opened.
Dental365 - Esposito Dental was built from the ground up, and is equipped with the latest in advanced dental technology. The office has a modern aesthetic and comfortable amenities, such as TVs in every exam room for patients to stream their favorite shows or music during their visits. In addition, the office has plenty of parking and is conveniently located on Franklin Ave., surrounded by eateries and popular local businesses within the Garden City community.
Dr. Joseph V. Esposito and Dr. Kathryn Wilson are experienced and highly recommended dentists and are now treating patients in the new office. Dr. Esposito, an active member and resident of the Garden City community is well-known for his skills in general and cosmetic dental services. He also serves as the official team dentist of the New York Rangers. Dr. Wilson, who has been practicing with Dental365 since 2013, will also be seeing patients in the new office. Existing patients of Dr. Wilson will be delighted to know they can now also visit her in the beautiful new space.
"We are thrilled to be opening a brand new office with best-in-class dentists in Garden City," says Dr. Scott Asnis, Founder and CEO of Dental365. He continues, "We are confident that patients will not only receive the best dental care, but they will also have a superior patient experience from start to finish."
Dental365 is a full-service family dental practice with locations throughout New York, Connecticut, New Jersey and growing. Their goal is to service communities with the latest technology in oral healthcare and wellness. Dental365 accepts walk-ins with little or no waiting time for adults and children and they offer everything from emergency extractions to routine exams, including cosmetic restorations, implants, and Invisalign®, all in state-of-the-art, beautiful environments where patient comfort and safety are a top priority. In addition, Dental365 is committed to providing dentists with the ongoing education and tools needed to provide the best patient care through Dental365 University, a unique concept built exclusively for Dental365 doctors. For more information about Dental365 or to schedule an appointment at Dental365 - Esposito Dental, call (516) 464-8700 or visit GoDental365.com.