Dental365 Volunteers to Donate Dental Care to Local LIU Post Soccer Player
Garden City, NY - Dental365 has volunteered to provide comprehensive dental care to LIU Post soccer player, Assane Ben Fall. Originally from Senegal, Assane is a Junior student and plays forward on the men's soccer team, and was named NEC Player of the Week in November of 2021. Dental365 was honored to donate the dental care he was in need of.
Dr. Kathryn Wilson, general dentist, and Dr. Joshua Gish, oral surgeon, generously volunteered to team up to help Assane with the urgent dental work he required. Assane was treated in the brand new, state-of-the-art Dental365 - Esposito Dental office, located in Garden City, NY. He received a dental cleaning and an overall dental evaluation and had all necessary x-rays taken. Assane was treated for the restorative dental care he needed that same day and later returned for a final visit to complete the remaining work he required.
"Dental365 finds it extremely important to help the communities we are in when we are given the opportunity to do so'' says Dr. Scott Asnis, CEO & Founder of Dental365. "We were honored to help Assane, and we wish him and the rest of the team the best of luck next season."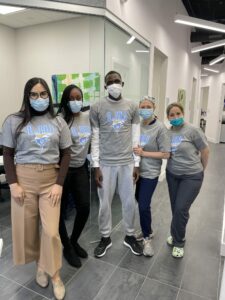 About Dental365
Dental365 is a full-service dental group offering general dentistry and specialty services with locations throughout New York, Connecticut, New Jersey, Massachusetts, and Rhode Island. Their goal is to serve communities with the latest technology in oral healthcare and wellness.
Dental365 provides convenient, evidence-based dentistry for their patients. Services provided cover the full spectrum of dental health, from routine exams and cleanings to TrueTeeth full arch restorations, all delivered in state-of-the-art, beautiful environments where patient comfort and safety are a top priority. In addition, Dental365 is committed to providing dentists with the ongoing education and tools needed to provide the best patient care through Dental365 University, a unique concept built exclusively for Dental365 doctors. For more information about Dental365 visit GoDental365.com.